---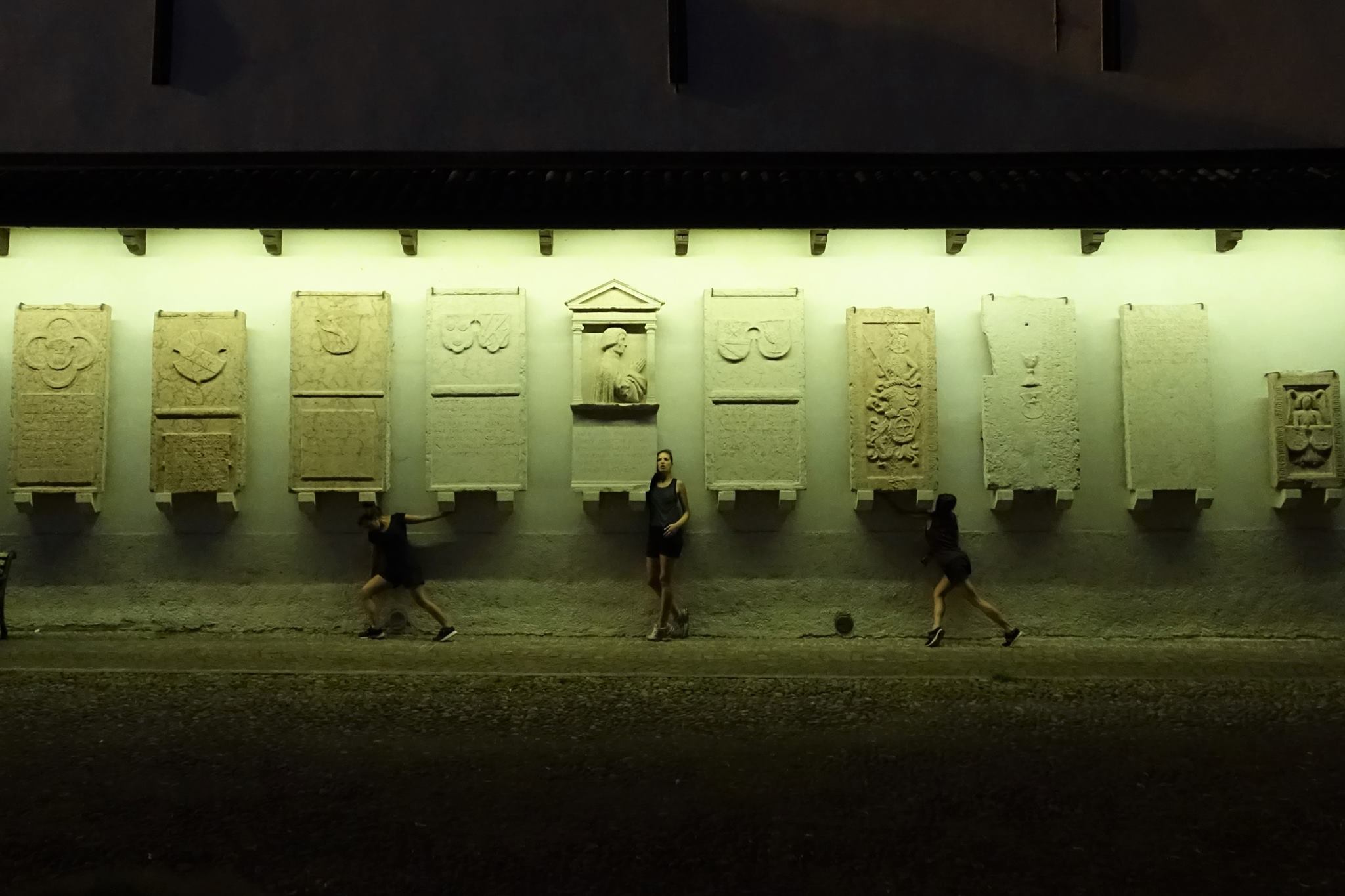 ---
Itinerari Coreografici in Urbana
VINCITORE BANDO OPEN/CREAZIONE CONTEMPORANEA 2018
Performance site specific per Festival Pergine Spettacolo Aperto
Creazione e interpretazione Dance Makers: Anna Altobello, Anna Bragagnolo, Beatrice Bresolin, Ilaria Campagnolo, Giovanna Garzotto, Ana Luisa Gomes, Michela Lorenzano, Andrea Rampazzo, Andrea Rizzo, Silvia Sessi

Data 7,8 Luglio 2018 Durata 45 min
La danza è di tutti e di tutti i luoghi. Tutti i luoghi sono fonte di stimolo per l'immaginazione e la creazione artistica.
Itinerari coreografici in urbana si propone di invadere la città con la danza, di suggerire una riflessione sul territorio e sulle sue risorse, attraverso interventi che esplorano gli spazi tramite i linguaggi del corpo. La danza e il corpo si fanno tramite per la costruzione di nuovi immaginari, nuovi punti di vista e nuove connessioni, in un percorso esperienziale di relazione e creatività dove il pubblico diventa allo stesso tempo visitatore, spettatore e protagonista.
ENG
WINNER OF OPEN/CREAZIONE CONTEMPORANEA 2018 AWARD
Site specific performance for Festival Pergine Spettacolo Aperto
Creation and performance Dance Makers: Anna Altobello, Anna Bragagnolo, Beatrice Bresolin, Ilaria Campagnolo, Giovanna Garzotto, Ana Luisa Gomes, Michela Lorenzano, Andrea Rampazzo, Andrea Rizzo, Silvia Sessi

Date 7-8 July 2018 Running time 45 min
Dance is about everyone and every place. All places are a source of inspiration for imagination and artistic creation.
Urban choreographic itineraries proposes to invade the city with dance, to suggest a reflection on the territory and its resources, and with interventions which explore the spaces through body's languages. Dance and body become the means for the construction of new imaginations, new points of view and new connections, in an experiential path of relations and creativity, where the audience becomes at the same time a visitor, a spectator and a protagonist.