---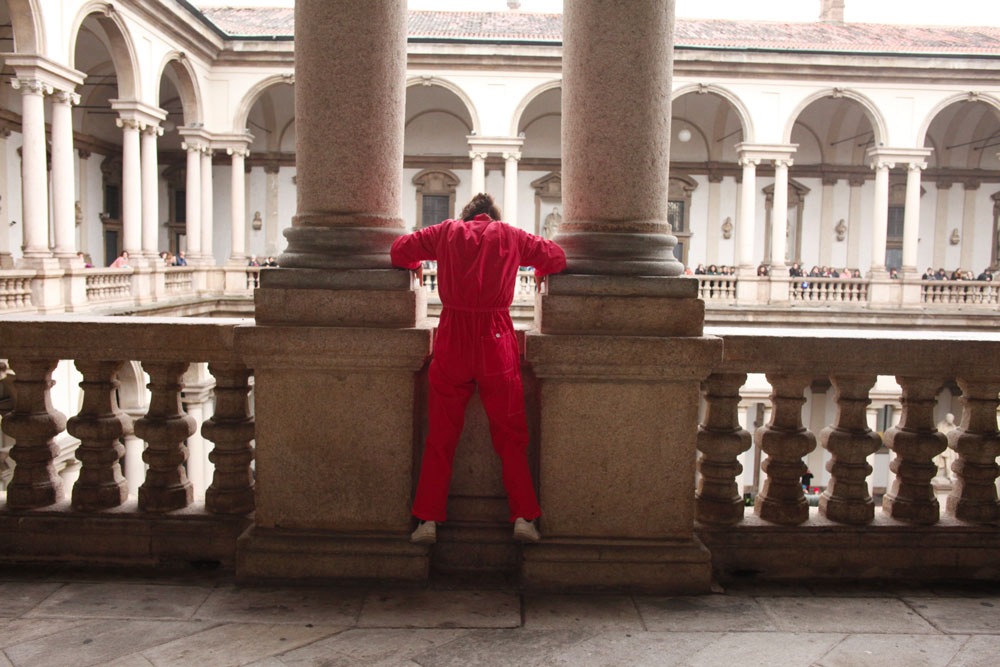 ---
Itinerario coreografico presso l' Accademia di Brera di Milano
Ideazione e interpretazione Dance Makers: Anna Altobello, Beatrice Bresolin, Ilaria Campagnolo, Marina Donatone, Andrea Rizzo
Con i partecipanti al laboratorio coreografico
E con la collaborazione degli studenti del biennio specialistico di Costume per lo Spettacolo e Scenografia Teatrale dell'Accademia di Brera
Un progetto di ZonaK e Stanze
Data: Novembre 2018 Durata: 45 min
Long-Lasting Landscapes è un progetto basato sulla relazione tra persone e luoghi attraverso la danza e i linguaggi del corpo. Il percorso degli itinerari è strutturato in molteplici tappe in cui si alternano creazioni artistiche di natura performativa a momenti partecipativi dove il pubblico diventa visitatore, spettatore e protagonista.
Gli itinerari offrono nuove prospettive di osservazione e nuovi modi di abitare gli spazi urbani mettendo in campo la corporeità. Ogni itinerario coreografico è unico perché sviluppato e pensato in stretta relazione al contesto che lo ospita.
Il progetto si propone di diffondere la danza contemporanea in luoghi non convenzionali stimolando una riflessione sul territorio e sulle sue risorse, attraverso interventi che portano ad esplorare il territorio tramite il vocabolario corporeo. La danza è di tutti e di tutti i luoghi, i quali a loro volta, impregnati di storia, di natura e di arte, sono fonte di conoscenza e stimolo per l'immaginazione e la creazione artistica. Questo pensiero è la base per la creazione di partiture coreografiche che traggono ispirazione dagli elementi architettonici, dalle geometrie, dalle sonorità, dalle opere d'arte, dalla storia e dagli abitanti che rendono unico un territorio e che andranno a costituire le tappe degli itinerari coreografici.
ENG

Choreographic itinerary at the Brera Academy in Milan
Creation and interpretation Dance Makers: Anna Altobello, Beatrice Bresolin, Ilaria Campagnolo, Marina Donatone, Andrea Rizzo
With the participants of the choreographic workshop
And with the collaboration of the students of Costume and Set design of the Brera Academy
A project by ZonaK and Stanze
At Accademia di Brera, Milano
When November 2018 Running time 45 min

Long-Lasting Landscapes is a project based on the relationship between people and places through dance and body languages. The route of the itineraries is structured in multiple stages in which artistic creations of a performative nature alternate with participatory moments where the public becomes a visitor, spectator and protagonist.
The itineraries offer new perspectives for observation and new ways of living in urban spaces by using the body. Each choreographic itinerary is unique because it is developed and thought out in close relation to the context that hosts it.
The project aims at spreading contemporary dance in unconventional places by stimulating a reflection on the territory and its resources, through interventions that lead to explore the territory through the body vocabulary. Dance is for everyone and for all places, which in turn, imbued with history, nature and art, are a source of knowledge and stimulus for the imagination and artistic creation. This thought is the basis for the creation of choreographic scores inspired by architectural elements, geometries, sounds, works of art, history and inhabitants that make a territory unique and that will be the stages of the choreographic itineraries.
about
https://www.roots-routes.org/danza-pietra-long-lasting-lanscapes-brera-unintervista-anna-chiara-cimoli-ai-dance-makers

Foto Luca Del Pia
ph Luca Del Pia

ph Luca Del Pia

ph Luca Del Pia

ph Luca Del Pia

ph Luca Del Pia

ph Luca Del Pia

ph Luca Del Pia