---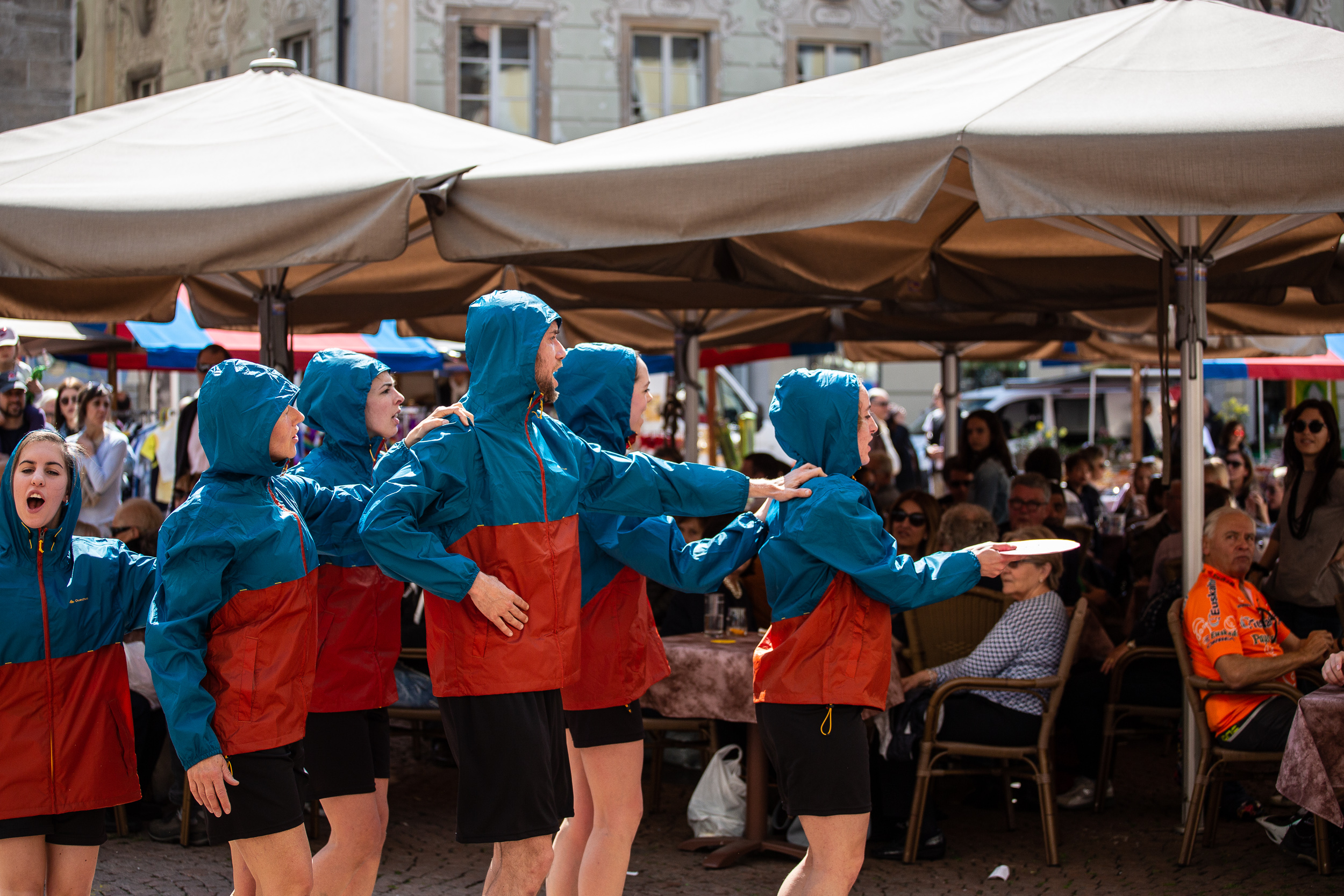 ---
performance per spazi urbani e non convenzionali
concept e coreografia Beatrice Bresolin performers e contributo alla creazione Ilaria Marcolin, Giovanna Garzotto, Andrea Rampazzo, Silvia Sessi, Vittoria Caneva, Elena Sgarbossa, Beatrice Bresolin supporto tecnico e artistico Matteo Maffesanti con in sostegno di CSC – Centro per la scena contemporanea Bassano del Grappa, Boarding Pass Plus Danza 2019, ZEBRA Cultural Zoo, Lo Studio Performing Arts Centre Arbedo, Performa Festival Ticino, Prohelvetia, CombinAzioni Festival
Durata 40 min Anno di creazione 2019
Come ci relazioniamo al mondo che abitiamo?
Quali confini ci separano dall'Altro?
A cosa vorremmo dare più spazio?
BorderLine è un gioco per fare spazio a quello che conta.
Il pubblico è invitato a pescare uno Space-Coin, per dare spazio a qualcosa che non ne ha abbastanza.
"Borderline è una sorta di gioco volto alla creazione di nuovi spazi d'azione e di relazione, luoghi in cui porsi delle domande, riflettere, ma anche esperire ludicamente nuove possibili conformazioni." Enrico Pastore

ENG
performance for urban and unconventional spaces
concept and coreography Beatrice Bresolin performers and contribution to creation Ilaria Marcolin, Giovanna Garzotto, Andrea Rampazzo, Silvia Sessi, Vittoria Caneva, Elena Sgarbossa, Beatrice Bresolin with the support of CSC – Centro per la scena contemporanea Bassano del Grappa, Boarding Pass Plus Danza 2019, ZEBRA Cultural Zoo, Lo Studio Performing Arts Centre Arbedo, Performa festival Ticino, Prohelvetia, CombinAzioni
Duration 40 min Year of creation 2019
How do we relate to the world we inhabit?
Which borders separate us from the Other?
What would we like to make more room for?
BorderLine is a game to make room for that what matters.
The audience is invited to pick a Space-Coin, to give space to something that doesn't have enough.
Trailer shot at Performa Festival Bellinzona (CH)
Camera Dino Hodic Editing Matteo Maffesanti
ph Rasha Bedhiafi

ph Rasha Bedhiafi

ph Rasha Bedhiafi

ph Rasha Bedhiafi