---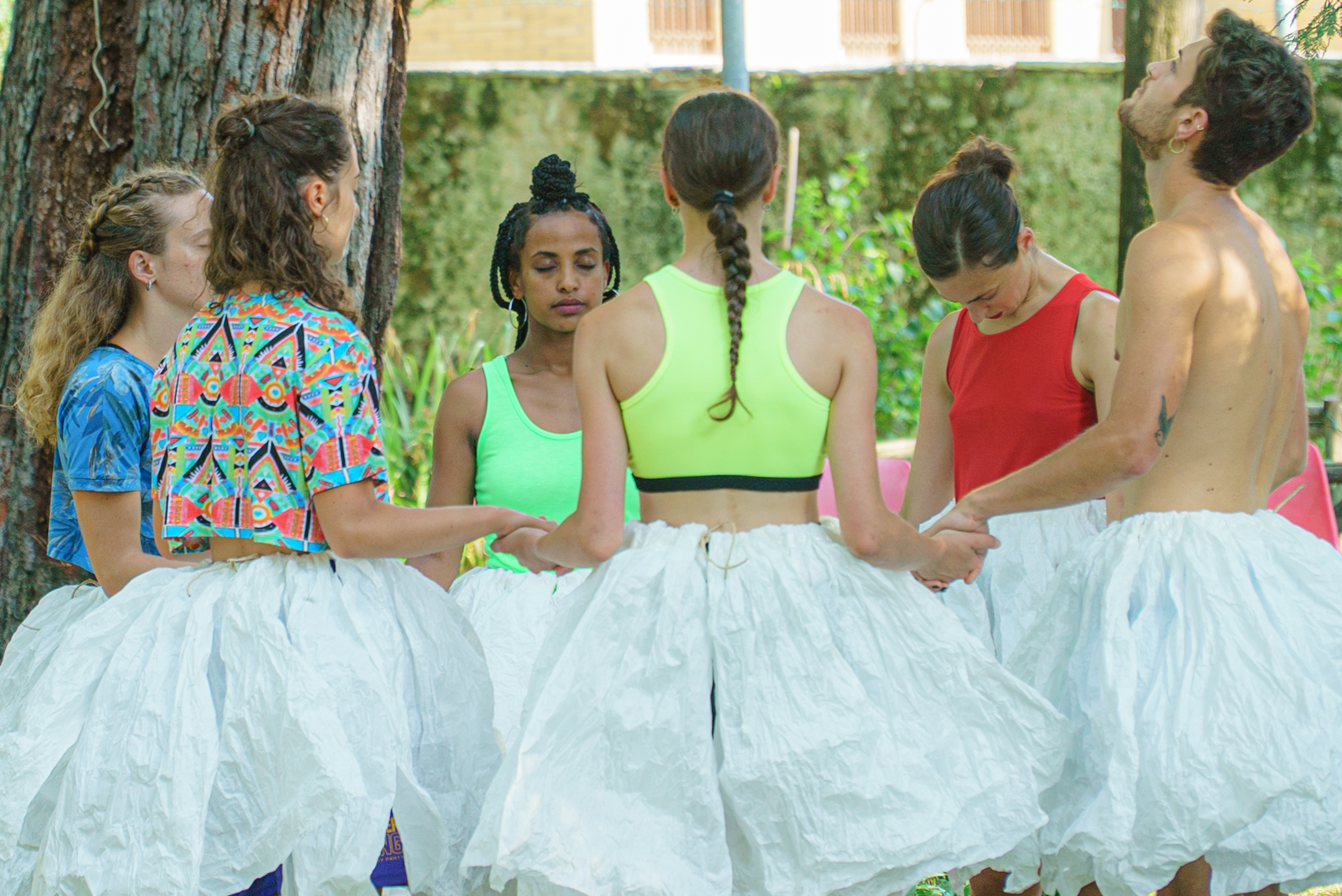 ---
Nora Chipaumire – Virtual Studies for a Dark Swan 2020
coreografia Nora Chipaumire assistente alla coreografia Mackintosh Pedzisai Jerahuni assistente in studio a Bassano Beatrice Bresolin interpreti
Selamawit Biruk, Beatrice Bresolin, Vittoria Caneva, Giacomo Citton, Ilaria Marcolin, Elena Sgarbossa costumi e scenografia Sara Lando produzione Operaestate Festival Veneto foto Plaisant Roberta
data 21, 22, 23 agosto 2020 durata 30 minuti
Attraverso un processo inedito di trasmissione digitale, Nora Chipaumire porta a Bassano una versione per sei danzatori del territorio, della sua creazione Dark Swan. Una coreografia nata dall'incontro di due immaginari apparentemente opposti: il famoso assolo La morte del cigno che Fokine creò per la leggendaria Anna Pavlova, e le immagini dell'esodo di donne scalze e indifese in Sudan, nel periodo del genocidio. Da questo incontro, nutrito da ispirazioni personali e musicali, nasce un lavoro che racconta la forza e la precarietà di chi marcia (scalza o sulle punte) verso il proprio destino. Ma proprio per questo, questo cigno decide di non morire: procede scalzo, recupera l'incedere del cigno classico ma usa l'intera pianta del piede, per rendere più udibili i propri passi. Una marcia ripetitiva ed estenuante, che rilascia tutta la ferocia e il desiderio di questo cigno, in un inno alla forza e al coraggio.
ENG
choreography by Nora Chipaumire rehearsal assistant Mackintosh Pedzisai Jerahuni in studio rehearsal assistant Beatrice Bresolin dancers Selamawit Biruk, Beatrice Bresolin, Vittoria Caneva, Giacomo Citton, Ilaria Marcolin, Elena Sgarbossa costumes and scenography Sara Lando production Operaestate Festival Veneto photo Plaisant Roberta
date 21, 22, 23 agosto 2020 running time 30 minuti
Through a process of digital transmission of choreography and content to 6 local dancers, Nora Chipaumire brings to Bassano her Dark Swan.
Inspired by the loneliness and fragility of Pavlova's Dying Swan and by the images of barefoot and bare-chested women trying to escape the violence of the genocide in Darfur, nourished by personal experiences and musical references, this Dark Swan refuses to die, and walks towards its destiny with urgency, ferocity, desire, unleashing its own voice and decisions.